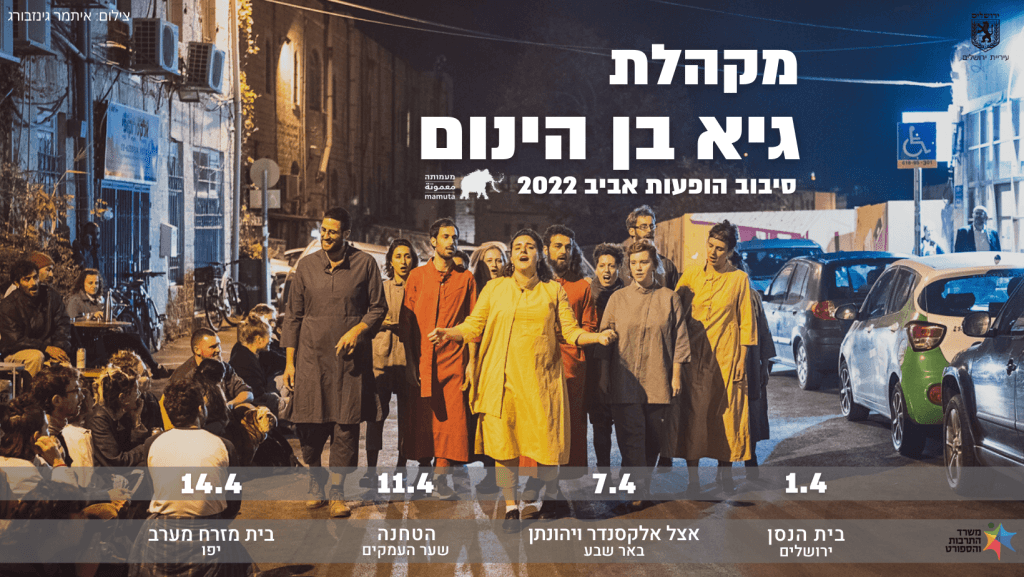 You're invited to join us in welcoming the spring, a celebration of colors, voices and new songs that we recently carved out from the Gehennic gold mine. The collaborative process is bubbling and frothing and bursting forth.
We'll start in Jerusalem, continue from there to Be'er Sheva, Sha'ar Ha'Amakim, and Tel Aviv-Yafo. Come spend some time with us in that good togetherness of song!
The Great Gehenna Choir is a collaborative musical collective. The choir's singers come from various backgrounds; some are classical singers, some composers, singer-creators, or interdisciplinary artists.
The choir's performative events are loosely constructed as open gatherings with songs on the boundary between the religious, the ritual, and the surrealistic. In performance, the choir creates moments of ecstasy alongside moments of attentiveness, fragile and exposed, and sometimes the audiences is invited to sing along.
---
🌸 1.4, 12:30 – The Attic, Hansen House, Jerusalem
🌸 7.4, 20:00 – At Alexander and Yonatan's, Be'er Sheva
🌸 11.4, 20:00 – The Mill, Sha'ar Ha'Amakim
🌸 14.4, 21:00 – Beit Mizrach Ma'arav, Yaffo
---
The Great Gehenna Choir
With: Noam Ahdut, Raanan Amir, Avner M Amit, Laila Mazal Yenishen, Ruth Danon, Ella Daniel, Anat Handelsman, Gidon Levi, Tamir Friedrich, Tamara Nishri, Sapir Rosenblatt, Elana Snitman, Natan Skop, Netta Spiegel, Ido Akov, Amit Fishbein, Michal Tamari, Alexander Fisch.
Artistic Direcrtors: Noam Ahdut and Tamir Friedrich
Producer: Michal Lotan